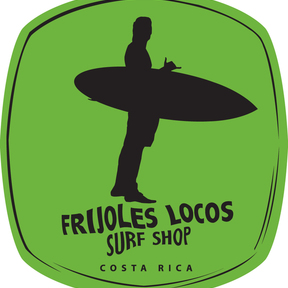 There is a lot to be said about surfboard rentals from a reputable business. No one is going to hold you ransom or flip out on you because you dinged up their favorite board. Our policy is very clear, and you know what you are up for in the event something goes wrong. No wild west cowboy- types here!
Frijoles Locos Surf Shop takes pride in providing a wide selection of surf boards to rent from budget to premium to brand new rental surfboards. We have Stand Up Paddleboards (SUPS) for flat water and SUP surfing, as well as kayaks, skimboards, boogie/ body boards and so much more to make sure your surf trip is fun for everyone.
Located in Playa Grande, Costa Rica, Frijoles Locos Surf Shop services surfboard rental needs of the greater area including Tamarindo, Flamingo, Conchal (Westin Resort), JW Marriott at Hacienda Pinilla and those lucky few who get to take awesome multi-night boat trips out of Playas del Coco!!
If you don't see a board listed that you really want to ride, send us an email and we will do our best to get you the surfboard of your vacation dreams.
Enjoy the ride, whatever you ride.
No followed people